KING ARTHUR'S LAND
Cadbury Castle The Legend of Cadbury Castle
Cadbury Castle has been associated with King Arthur and Camelot since at least the 1,500's when John Leland, a renowned British author wrote about it in his account of Ancient British History. He wrote: At the very south end of the church of South-Cadbyri standeth Camallate, sometime a famous town or castle… The people can tell nothing there but that they have heard say Arthur much resorted to Camalat…
When he refers to Camallate or Camalat he is of course talking about Camelot of Arthurian legend, the famous capital and court of King Arthur where the Round Table would have set and where the Knights of the Round Table would have met.
Cadbury Castle has been associated with King Arthur and Camelot since at least the 1,500's when John Leland, a renowned British author wrote about it in his account of Ancient British History.
The association of Camelot with Cadbury has been one that has been debated and contested over the past 500 years. Some argue that the connection is real and genuine, while others contest that Leland invented the correlation, taking from the nearby Queen Camel and West Camel. An archaeological investigation took place at Cadbury in the 1960's and evidence suggest that the original site which was an Iron-Age camp, was refortified with timber and earth during the 6th Century, which is the time King Arthur is believed to have been there and had prominence. The foundations of an extensive timbered hall, and what appears to be the beginnings of an unfurnished church, add further to the speculation, as does the closeness of the site to Glastonbury Tor.
There is a causeway that links Glastonbury Tor to Cadbury Castle, and this land bridge is known as King Arthur's Hunting Track, further lending to the legends that surround the area. During the 1800's a group of Victorian 'archaeologists' came to investigate the stories surrounding the hill, and while there a local man approached them and asked if they had "Come to dig up the king". There is still plenty of folklore surrounding the hill, and legend has it that if you leave a silver coin and your horse at the Hill on Midsummer's Eve, you'll find your horse re-shod in the morning.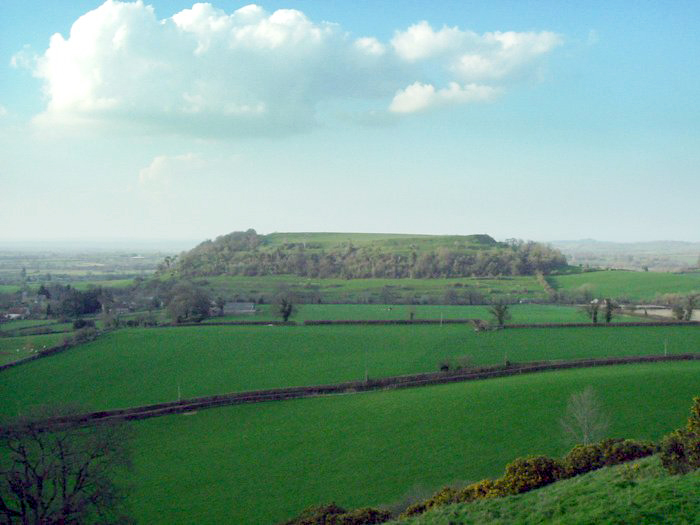 An aerial view over green fields and hedgerows toward a large conical hill.
Photo by Joe D, modified by JimChampion.