THE KNIGHTS OF THE ROUND TABLE
Sir Lamorak
The son of King Pellinore, a great knight in his own right, Sir Lamorak was the brother of Percivale according to some legends. Lamorak was one of the strongest, fiercest, and most brutal Knights of the Round Table. The lover of Morgause, Sir Lamorak's father Pellinore had killed Morgause's husband King Lot of Orkney in a dual.
Sir Lamorak was one of three knights most noted for their deeds of prowess, and at an early age he received a degree for jousting, at which he excelled. On several different occasions, Lamorak fought over thirty knights by himself, killing or besting them all.
Sir Lamorak of Legend
Having killed King Lot of Orkney in battle ten years earlier, King Lot's sons Gawain and Gaheris retaliated by killing King Pellinore in a duel. This infuriated Sir Lamorak, who had joined the Round Table, and whether or not it was retaliation, Lamorak began his affair with Gawain and Gaheris's mother, Morgause. The legend has it that Sir Gaheris caught Morgause in Lamorak's arms, and letting Lamorak go he then beheaded his own mother.
Sir Lamorak was one of the strongest, fiercest and boldest knights of the Round Table, taking on 30 other knights by himself at several different points.
Some sources say Sir Lamorak was killed by Sir Mordred, Arthur's rebellious nephew who was at war with Arthur and the Round Table. Mordred crept in behind Lamorak and stabbed him in the back, but most stories refer to Lamorak as being killed by Gawaine in retaliation for Lamorak's relationship to Morgause. Lamorak's cousin, Sir Pinel le Savage attempted to avenge Lamorak's murder by poisoning Gawain at Queen Guinevere's dinner party, but the poison was accidentally drunk by another knight. It was because of that mistake that Queen Guinevere was falsely accused of the poisoning death and execution attempt was made against her.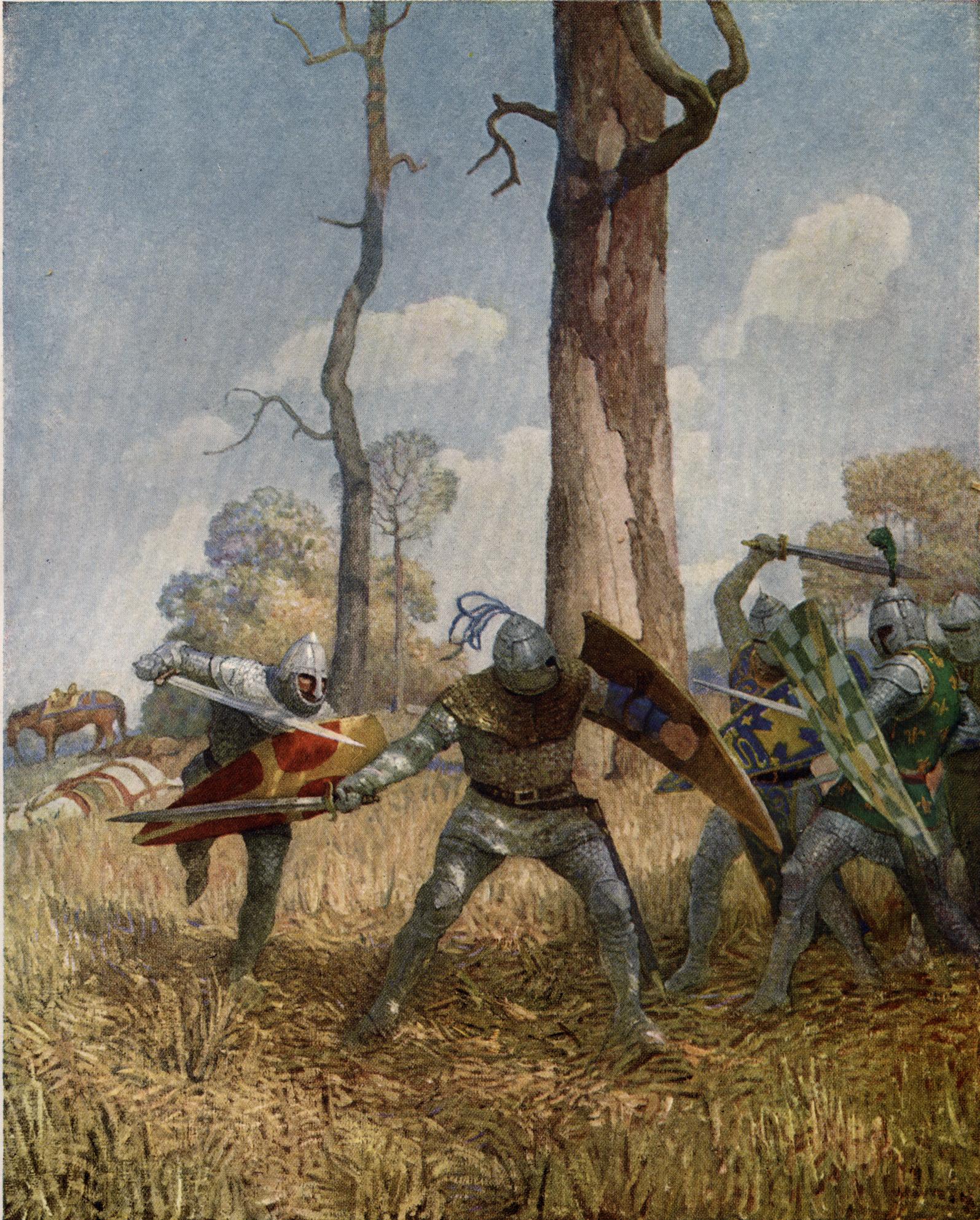 N. C. Wyeth's The Slaying of Sir Lamorak (1922)
According to History
First introduced in the Prose Tristan, an adaptation of the Sir Tristan and Queen Iseult love story into a long prose romance, Sir Lamorak later made appearances in many other legends and tales: including the Post-Vulgate Cycle and Sir Thomas Malory's Le Morte d'Arthur.
Malory referred to Sir Tristan as King Arthur's third best knight, right behind Sir Lancelot and Sir Tristan, but Lamorak was not highly popular in the romantic versions of Arthurian Legend, mainly staying a "supporting actor" and a subordinate to more famous and prominent characters.