THE KNIGHTS OF THE ROUND TABLE
Sir Tristan
Sir Tristan, or Tristram in Old English, was a contemporary of King Arthur and a Knight of the Round Table. He was the nephew and champion of King Mark of Cornwall and the son of Meliodas, King of Lyoness. Tristan's mother died when he was born, and as a young man he went to live with his uncle, Mark in Cornwall, becoming his uncle's champion.
Sir Tristan became the champion of his uncle upon defeating and killing Marhaus of Ireland in a duel. That defeat led to a truce with King Anguish of Ireland who arranged for his daughter, Iseult to be married to King Mark. Sir Tristan who was sent to Ireland to fetch the would be Queen, but while in the process of bringing her back to Cornwall, Tristan and Iseult fell hopelessly in love with one another. Upon realizing there was no hope for them to stay together and live a normal life, they fled from King Mark and lived the rest of their days on the run.
Sir Tristan of Legend
Sir Tristan and Iseult spent years on the run, hiding in the hills, in monasteries and wherever they could stay hidden. Ultimately though, legend says that while Tristan was playing his harp for Iseult, King Mark snuck in behind him and killed him with a dagger or a lance in the back.
It was Tristan who was sent to Ireland to fetch Queen Iseult. While in the process of bringing her back to Cornwall, Sir Tristan and Iseult fell helplessly in love with one another.
The Fowey Stone in Cornwall is thought to bear an inscription about a Tristan, son of Cunomorus, to whom the tale may have been transferred. According to the Italian version of the story, Tristan and Iseult had two children, bearing their names, while the French version of the legend gives them one son, Ysaie, and a grandson, Marc.
The Tristan Stone in Cornwall, is another monument to Sir Tristan, which has stood for hundreds of years. Sir Tristan made his first recorded appearance in the 12th century in British mythology circulating in the north of France and the Kingdom of Brittany.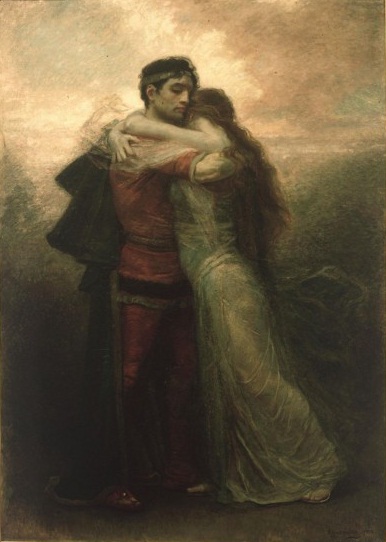 Rogelio de Egusquiza – Tristán e Iseo (La vida)
According to History
French poet, Chrétien de Troyes was one of the earliest to mention Tristan in his poem Cligès, in which he tells his own version of the story of Tristan and Iseult. Unfortunately, there are no known copies of Cligès in print anywhere. Sir Thomas Malory shortened the French version and ultimately wrote his own version called The Book of Sir Tristram de Lyones, which would eventually become a part of Le Morte d'Arthur.
The name Tristan comes from the ancient Britton word which means the "clanking swords of iron", while many of the more modern languages translate the name Tristan: sadness. The name Tristan may very well be Pictish in origin though, and it is interesting to note that the Pictish King Talorc III was succeeded by Drust V. Another interesting observation is that the kingdom of Lyonesse, from which Tristan would have hailed, doesn't appear to exist in history, though there were two places called Leonais. One is in Brittany while the other is from the Old French transcription of Lothian. Some historians believe though, that Lyonesse is probably the Isles of Scilly – which would become multiple islands at high tide and one larger island at low tide.